Wow….I'm still a bit stunned to look at my post from today/yesterday (what day IS it anyway???) and see that it says "January 1, 2012". The last two days here have been a bit of a blur spent helping my parents move 60 years of memories into a new house. Talk about your bittersweet experiences!
Bitter:
*moving is possibly the most gruesome activity of all human experiences.  haha! Sounds like I'm exaggerating…but you all know I'm right!
*leaving a place that has been "home" for a very long time.
Sweet:
*reminiscing with family members (those with enough guts to tackle this project!) over a lifetime of photos, objects, experiences. For example: the sugar bowl! I can't believe I didn't take a picture of it…but my mother has this little sugar "bowl" that has been a fixture in her kitchen cupboard for a thousand years. (OK…that time I WAS exaggerating.) It's a little silver-plated cup with curved handles on both sides that is slightly dented and has lost its lustre…but when you look at it…you are instantly transported back in time to waking up as a child and stumbling to the kitchen to pour a bowl of Cheerios (the original, no sugar kind) and reaching for the little silver sugar cup that you know will be there. Like a trusty little anchor.
*getting to take treasures you grew up with to your own home until you hand it down to the next generation.
*laughter! LOTS of laughter…as you and your siblings, etc try to get through "the most gruesome activity of all human experiences" and maintain your sanity. ;-) (There I go exaggerating again.)
I could go on and on. Moving is definitely an experience like no other. Something NO ONE in their right mind looks FORWARD to. It separates the "men from the boys" (and the women from the girls), but when all is said and "moved"…the whole adventure makes us realize…if we can do THIS…we can do anything!
It was while unpacking books and putting them into bookshelves at the new house today that I decided what this blog post would be about. It hit me right over the head. No really, it did. It was right after an extremely heavy plaque fell from the top shelf of the bookcase onto my head….that I decided "how to arrange your bookshelves" was one good thing to explore further.
Rule #1.
Don't put extremely large, heavy plaques on the top shelf. That's really all I got.
For more information and inspiration I turned to my new favorite resource…Pinterest.
What I was looking for were ideas for arranging and beautifying BASIC bookshelves (like the ever-popular IKEA Billy shelves). It's not that hard to make pricey custom built-in bookshelves look good (and there are some incredibly gorgeous ones out there!)….but making the most out of a serviceable, yet plain, mass-produced bookcase (like the Billy) is more of a challenge! And we love challenges don't we? :-)
First….a few GENERAL rules to follow (or not) from BHG.com:
1. put smaller books up top and bigger books at the bottom and keep similar sized books together
2. try to cull all ragged books (especially paperbacks), or "hide" them in attractive baskets
3. leave a little bit of "breathing room" on each shelf
4. put your most attractive books at eye level
5. keep your books straight up and down or horizontal
6. never stack anything on top of book rows
And now the Bookcase Arranging Inspiration Board. 
(I've tried to stick with basic, free-standing bookshelves, but some are built-in. Remember what we are looking for is how to arrange what is ON the shelves….rather than the actual bookcase itself.)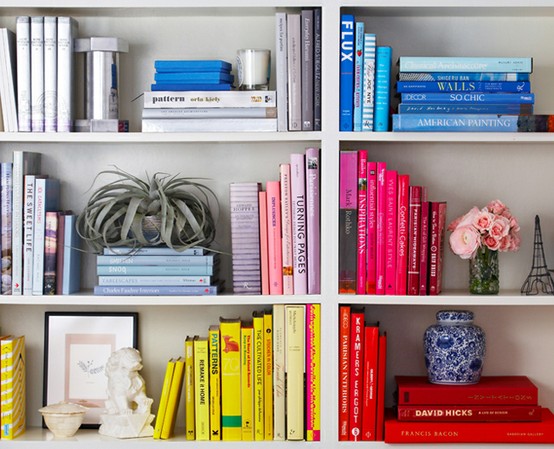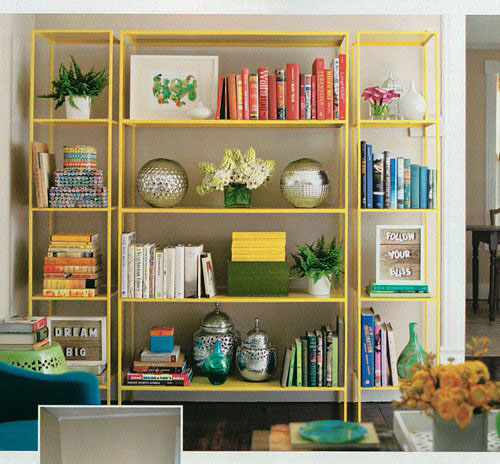 Oh man….now I have SO many more ideas! I want to go back and re-do the bookcases I filled today! (Packing hard hat and bottle of Excedrin.)